Meditate With A Monk In Irvine
sat04feb9:00 amsat10:30 amMeditate With A Monk In IrvineA Calm Mind Brings Happiness.9:00 am - 10:30 am(GMT-08:00) View in my timeThe Performance Arts Studio of Galaxy Art Center, 1382 Valencia Ave H, Tustin, CA 92780.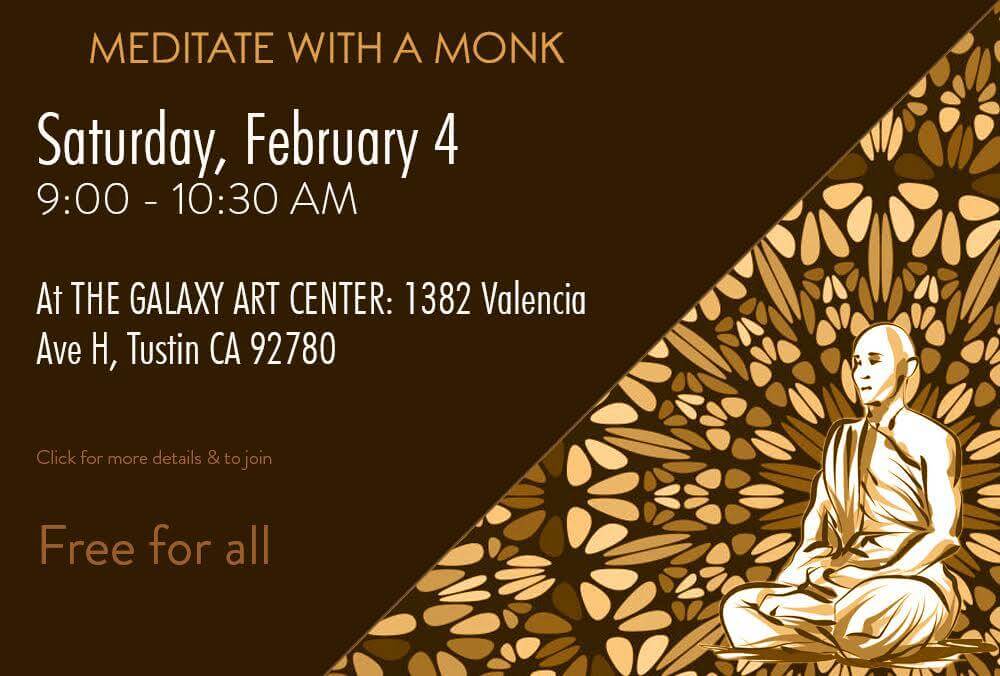 Event Details

Are you looking for a way to relax your mind through meditation?
Enjoy the Saturday morning while practicing meditation with a Buddhist monk.
(This session will be held indoors due to the cold weather)

Where: The Performance Arts Studio, 1382 Valencia Ave H, Tustin, CA 92780
When: Saturday, February 4th, 2023
Cost: Free

This event is about learning different Buddhist meditation types, which will guide you to relax your mind according to your needs. These meditation technics will help you rise to higher vibrations and feel light, calm, and energized.

This is not a religious event.
This event is for anyone, regardless of religious beliefs, ethnicity, gender, or anything else. We will talk about self-realization, cultivating positive thoughts, and methods of reducing the impact of everyday struggles. These will help you find your inner happiness and feel positive daily.

What to Expect:
Introduction to meditation.
Relaxation of Mind and Body.
Meditation and Awareness.
Blessings
Q & A.
* Cushions and Chairs will be provided to have a comfortable meditation session.
If you have any questions or concerns about this event, don't hesitate to get in touch with us at 714 884 3894 4050 or email us at [email protected].
Time

(Saturday) 9:00 am - 10:30 am(GMT-08:00) View in my time