One-Day Meditation Retreat - OCT 28
sat28oct9:30 amsat11:00 amOne-Day Meditation Retreat - OCT 28A day dedicated to finding inner peace and rejuvenating your mind through meditation.9:30 am - 11:00 am(GMT-07:00) View in my timeDhammawood Meditation, 9917 Mission Blvd, Jurupa Valley, CA 92509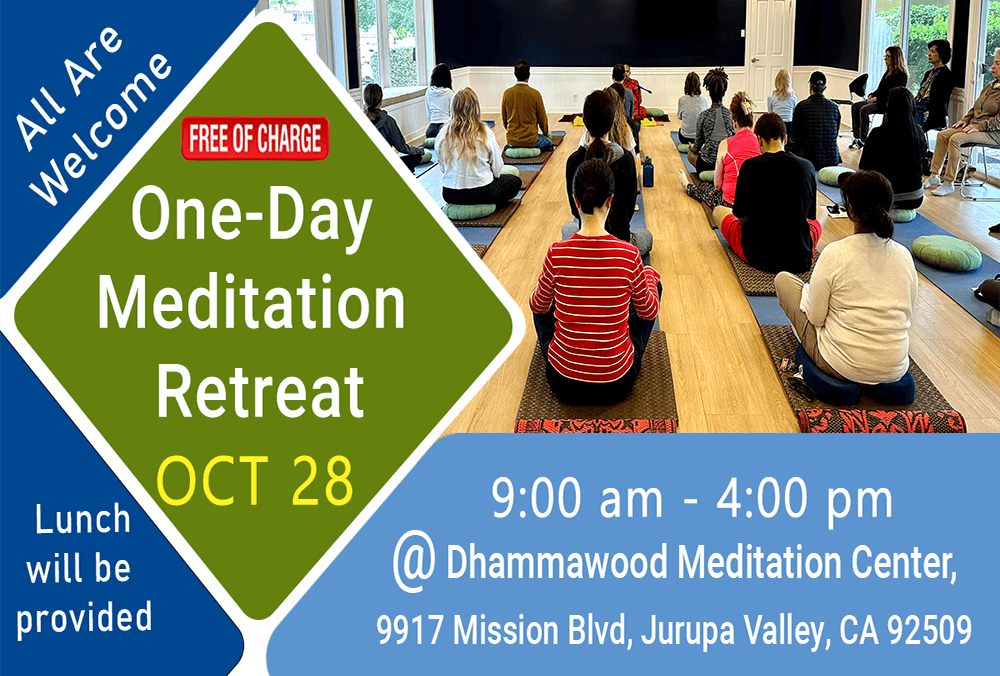 Event Details
Welcome to a Tranquil Oasis Retreat
A day dedicated to finding inner peace and rejuvenating your mind through meditation.
In today's fast-paced world, it's easy to feel overwhelmed and disconnected from our inner peace.
The purpose of this retreat is to provide you with a tranquil space where you can step away from the chaos and embrace the stillness within.
Meditation offers numerous benefits.
Stress Reduction: Discover techniques to manage and reduce stress in your daily life.
Mental Clarity: Gain mental clarity and improve focus and concentration.
Emotional Balance: Develop emotional resilience and find balance in your feelings.
Inner Peace: Experience a sense of deep inner peace and calm.
Mind-Body Connection: Strengthen the mind-body connection for overall well-being.
The Schedule Of One-Day Meditation Retreat
09:00 – 09:15 a.m. – Welcoming & Introduction
09:15 – 09:45 a.m. – Mind & body relaxation with mindfulness
09:45 – 10:15 a.m. – Short Talk
10:15 – 10:45 a.m. – Loving-kindness meditation
10:45 – 11:00 a.m. – Short Chanting
11:00 – 11:55 a.m. – Mindful Eating
12:00 – 12:30 p.m. – Short Break
12:30 – 01:00 p.m. – Mindful Walking (walking meditation)
01:00 – 01:30 p.m. – Impermanent Meditation
01:30 – 02:00 p.m. – Short Talk
02:00 – 02:30 p.m. – Tea Break
02:30 – 03:00 p.m. – Silent Meditation
03:00 – 03:40 p.m. – Q & A Session
03:40 – 03:50 p.m. – Contemplation on Altruistic Joy
03:50 – 04:00 p.m. – Chanting the verses of Blessing & Conclusion
Additional information about the One Day Meditation Retreat
Lunch & refreshments will be served.
Chairs & mats will be provided to have a comfortable meditation session.
Attendees are free to take breaks from the scheduled events at any time during the retreat.
We also highly recommend that attendees not use their phones during the retreat periods since this can disrupt the experience and other participants.
We encourage you to disconnect from technology and immerse yourself fully in the retreat.
Attire: Attendees are required to wear comfortable and modest clothing during the retreat. Some people that come like to wear white.
Registration is required.
Cost: Totally free of charge. (Donations are welcome)
Time

(Saturday) 9:30 am - 11:00 am(GMT-07:00) View in my time
Location

Dhammawood Meditation

9917 Mission Blvd, Jurupa Valley, CA 92509