Full Moon Meditation In Red Rock With A Monk
fri05may7:00 pmfri8:30 pmFull Moon Meditation In Red Rock With A Monk7:00 pm - 8:30 pm(GMT-07:00) View in my timeCalico Basin Trail, Calico Basin Rd, Las Vegas, NV 89161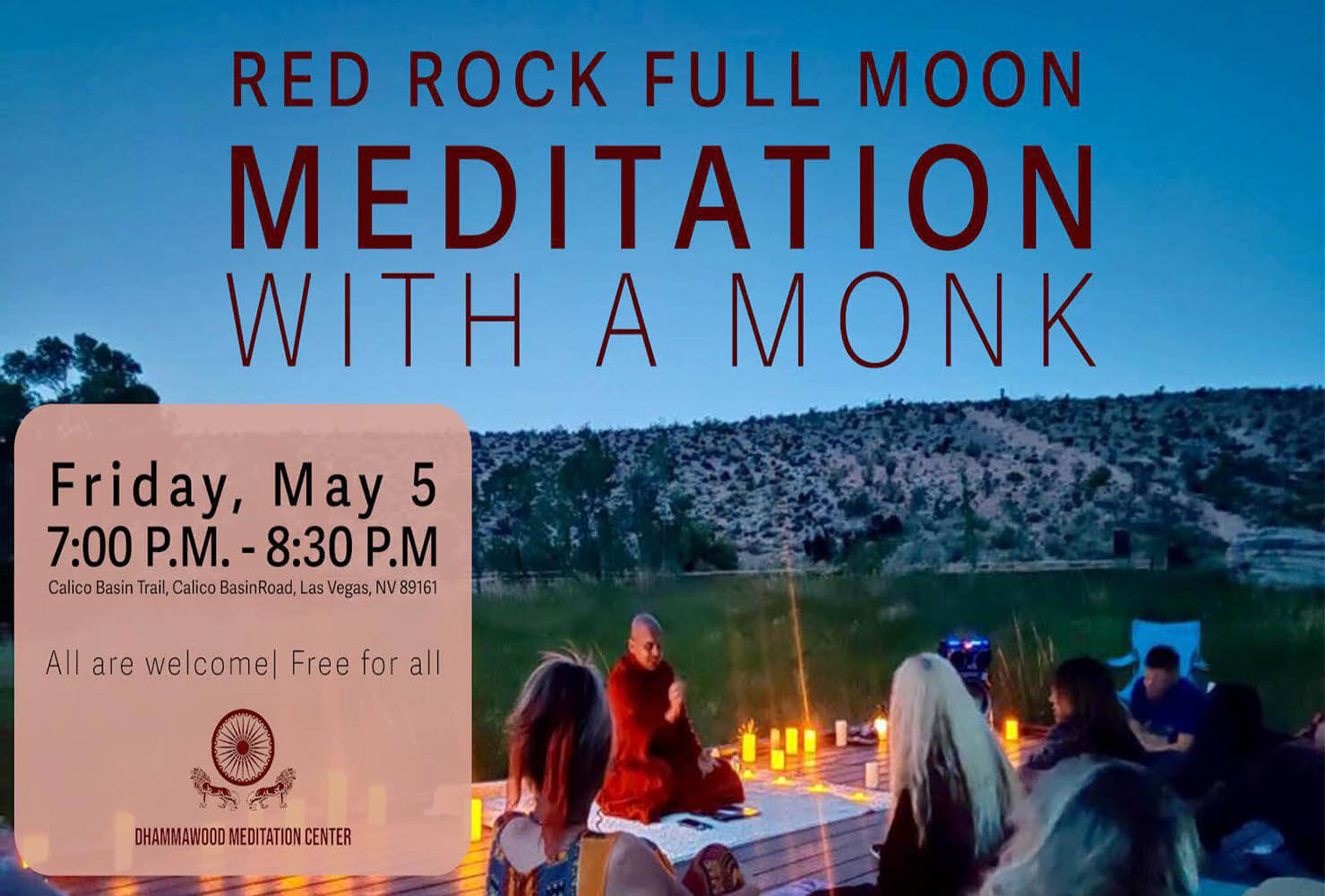 Event Details

Join us for a unique meditation program on the auspicious occasion of Vesak Full Moon Day, also known as Buddha Purnima. This day marks the enlightenment of the Buddha and is celebrated by Buddhists worldwide.

We invite you to gather at the serene Red Rock Canyon in Nevada on May 5th from 7:00 to 8:30 pm.

Surrounded by the canyon's natural beauty, we will come together to practice mindfulness meditation, cultivating inner peace and harmony.

During the program, we will guide you through different meditation techniques to help you deepen your practice and connect with your inner self. We will also offer some insights into the teachings of the Buddha, inspiring your spiritual journey.

Whether you are new to meditation or an experienced practitioner, this program is open to all who seek to explore the depths of their inner being. Join us as we honor the wisdom and compassion of the Buddha and create a sacred space for inner transformation.

Even though a Buddhist monk guides the meditation session, this is not a religious event.

What to Expect:
Introduction to Life of the Buddha.
Relaxation of Mind and Body.
Loving-kindness meditation
Impermanent meditation (Vipassana Meditation)
Q & A.
We look forward to sharing this special evening with you under the full moon's light.
This is our 2nd full moon meditation program in Red Rock.
This event is for anyone, regardless of religious beliefs, ethnicity, gender, or anything else. We will talk about self-realization, cultivating positive thoughts, and methods of reducing the impact of everyday struggles. These will help you find your inner happiness, feel positive daily and motivate you to meditate every day.
Suggestions:
Please bring a Yoga mat, cushion or folding chair, flashlight, water, layer a warm sweater and wear comfortable walking shoes.
Direction:
Las Vegas Calico Basin Red Spring Boardwalk:
https://maps.app.goo.gl/Pca8rrfF37HsVvgK9
Walk through the picnic area and up the boardwalk, walk along either directions you will meet us. See you there!
If you have any questions or concerns about this event, please get in touch with us at 909 710 1780 or [email protected].
Time

(Friday) 7:00 pm - 8:30 pm(GMT-07:00) View in my time
Location

Calico Basin Trail

Calico Basin Rd, Las Vegas, NV 89161